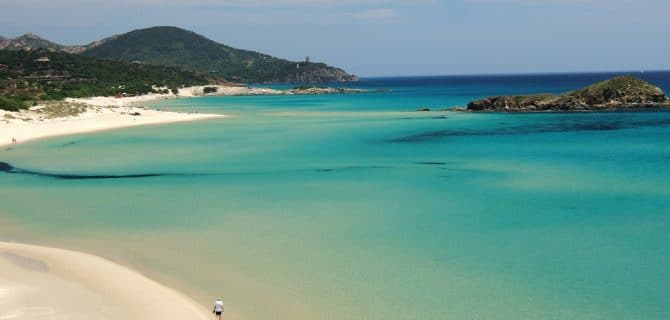 By admin | May 25, 2017 | Posted in: Uncategorised
Teulada is a municipality in the Province of South Sardinia, located south-west of Cagliari. 28 kilometres and 42-minutes from Forte Village Resort, you can reach Teulada when you go through Strada Statale 195 Sulcitana. Teulada
Teulada- A Charming Place to Visit from Forte Village
Teulada is a charming little place loved for its peace and quiet, limpid waters, jagged rocks, and soft, white sands. With the breath-taking views on the road to the commune, you'll want to make a few stops along the way to capture the scenery.
Teulada is often visited for its glorious beaches including Porto Tramatzu, Spiaggia delle Dune, Spiaggia di Tuerredda, Porto Zafferano, Spiaggia di Porto Pino, Spiaggia di Campionna, among others.
While every single one of Teulada's beaches is gorgeous in its own right, Spiaggia di Tuerredda is undoubtedly one of the best beaches in South Sardinia. The beach is always packed with tourists in peak periods. If you happen to visit on a weekday in June, you'll find most of the beach free, except for a few chairs and umbrellas making it feel untamed and reminiscent of a remote paradise. After a long day tanning in the amazing Sardinian sun, there are bars, snack bars and restaurants to grab a drink or a bite, many of which are affordable.
The dreamy, turquoise blue waters are excellent for snorkelling and swimming, plus there is a lifeguard who is always engaged. The sand is unbelievably soft, and there are loads of fish close to the rocks. Boats are available to take you across the water to the other island in front of the beach.
Spiaggia di Tuerredda is easy to reach from Cagliari – you follow the road sign to Chia and find the beach on the left.
The Pond of Porto Pino
Another popular tourist attraction in Teulada is the pond of Porto Pino. The area comprises two large beaches which is approximately 4 kilometres long and forming a large arc. On one side they are bordered by large, white sand dunes which are considered one of the most impressive and highest in Sardinia. On the other side are the adductor channel backwaters of ponds, a string of alluring rocky cliffs and a rare pine forest of Aleppo pine, which legend says was the particular wood used by the Phoenicians for their boats.
The ponds of Porto Pino are used for fish farming. The area is often visited by various species of birds, including the kingfisher, common sandpiper, pink flamingo, and egret. The ponds are directly connected to the saline of Santa Caterina and are separated from the sea by a sandy strip about 70 meters wide. Access to the area is permitted only in the summer.
One of the possible sites of the ancient Roman city of Bithia, Teulada, is the site of the Battle of Cape Spartivento also known as the Battle of Cape Teulada. This battle was a short Second World War naval battle during the Battle of the Mediterranean, fought on 27 November, 1940, between naval forces of the British Royal Navy and the Italian Regia Marina.
Related Links
Related Posts