Forte Village Suites – Forte Village Villas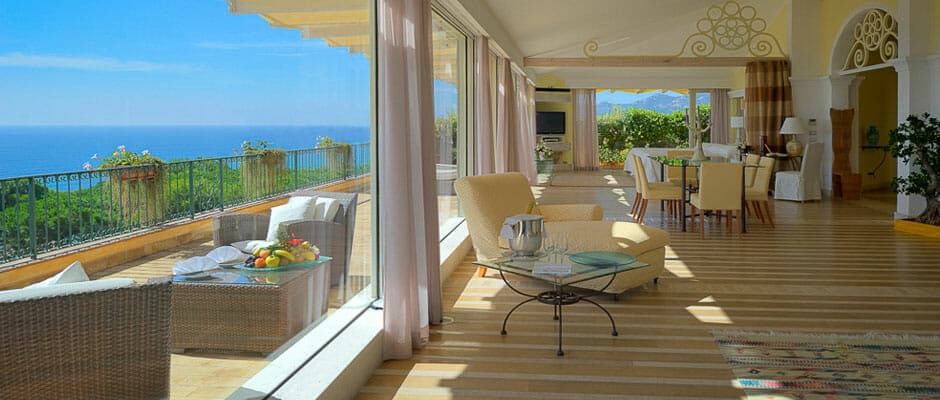 Forte Village Suites
In some Forte Village suites you can almost fall onto the beach, others suites are in secluded Forte Village villas with private gardens. All Forte Village suites are exclusive and offer the ultimate peaceful and care free experience. Forte Village Suites were created for the most discerning, demanding of guests, offering  Butler, Chef or Chauffeur services. For the ultimate service and discretion the Forte Village Suites are for you..
Forte Village suite guests may enjoy breakfast in their suites or at the Terrazza Cinque Stelle / Cavalieri restaurants. Other fabulous Forte Village restaurants are available upon reservation at no extra  supplement, while some gourmet and a la carte restaurants require a reservation with a supplement.
All of the Forte Village Suites are bookable on request, for further information please contact our www.designholidaysfortevillage.co.uk reservations team on 01444 87 22 14.
View the latest Forte Village Video. 
FORTE VILLAGE SUITES FEATURES
Our range of exclusive suites is an excellent choice for visitors who are looking to have a blissful and serene break. Whether you like to enjoy watching the sun set as it castsits orange glow on the beach or take in nature's beauty in pristine gardens, we have just the suite for you. Some of our suites are literally a stone's throw away from the beach, and others are tucked away in lovely secluded Forte Village villas with private gardens for your pleasure. All Forte Village suites have been designed with the ultra-sophisticated guest in mind, presenting top-ratedbutler, chef, andchauffeur services.
All of our suites feature air conditioning, flat-screen TVs, free Wi-Fi, terraces or patios, and minibars,plus tastefully decorated living areas with first-classroom service. Depending on which suite you choose to stay, you may find whirlpool bathtubs or chromotherapy showers, four-poster beds and hot tubs.
Our Waterfront Suites are spacious and offer the highest standard of luxury. Merely seconds away from the beach, these stylishly designed suites allow you to enjoy breath-taking views of the sea. Included in The Leading Hotels of the World Collection, the enchanting Waterfront Suites are situated in one of the most intimate and alluring parts of Forte Village Resort. To add that extra special touch, you'll have a first-rate private butler to make you feel like a VIP.
Our suites in Le Dune and the Villa Del Parco & Spa are equally exquisite and will certainly not disappoint you. Moreover, the Il Castello Suites are the epitome of elegance and luxury. You'll be treated to hospitality of the highest standards,and service best suited for royalty. Presenting irresistible views of nature atits finest, the suites have their own reception and private lift.
You may enjoy a delicious breakfast at the Terrazza Cinque Stelle / Cavalieri restaurants, be served in your suite, or make your pick from any of our other exceptional restaurants. Also available with a surcharge are Barbie™ and Thomas the Tank Engine™ packages for children.
HOW MUCHDOES A STAY COST?
From our most basic suites to the more exclusive ones, you could spend anywhere between $915 and $2,748 per person for a one week stay. While you'll need to make a reservation with a surcharge at some gourmet and a la carte restaurants, we have a number of other restaurants that allow you to make reservations with no surcharge.
HOW TO GET TO FORTE VILLAGE SUITES
Forte Village is about 49 minutes from the Cagliari Elmas Airport. From the airport, you'll take Arrivi to Via dei Trasvolatori/SS391 for 3 minutes and 700 m. Next, you'll join E25 to Strada Statale 195 Sulcitana in Capoterra for 20 minutes and 23.5 km. At the roundabout, you'll take the 2nd exit and stay on StradaStatale 195 Sulcitana for 9 minutes and 10.4 km before you get to another roundabout and continue straight to stay on Strada Statale 195 Sulcitana for 13 minutes and 13.9 km. Lastly, you'll take Viale delle Nereidi for 4 minutes and 800 meters to Forte Village.
FORTE VILLAGE SUITES REVIEWS
Suci C
"The suites at Forte Village are superb, with stunning and absolutely priceless views. Also, the service in this resort is excellent."
DTP24
"I have stayed at Forte Village 6 times and I'll definitely go back again. The resort's facilities are brilliant. I would highly recommend it for a family looking for a luxury beach holiday."
INSTRUCTIONS FOR BOOKING YOUR STAY AT FORTE VILLAGE SUITES
All Forte VillageSuites are bookable on request. Book directly from www.designholidaysfortevillage.co.uk or call (+ 44) 01444 87 22 14 for more information.
---
---