Gordon Ramsay Restaurant – Forte Village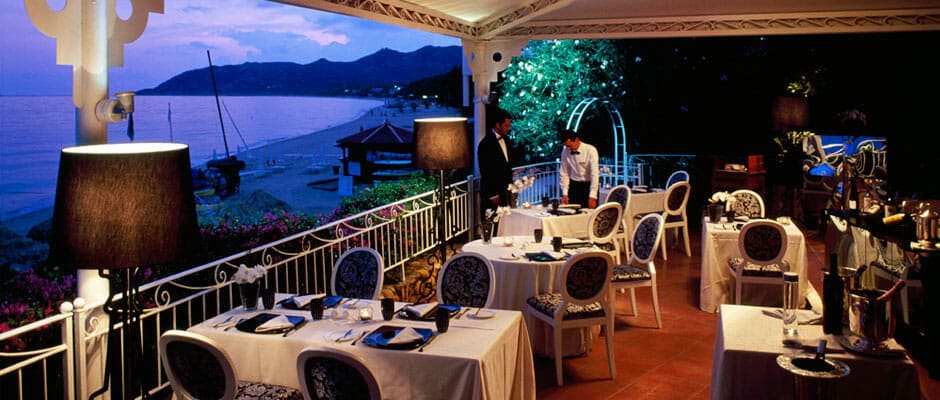 In a tailor-made setting with magnificent sea views, Gordon Ramsay's signature restaurant at Forte Village confirms his status as an extraordinary interpreter of international cuisine. This Gordon Ramsay menu features a revived traditional French cuisine, with Asia and Mediterranean influences. Although not always present as the Chef each week, Gordon Ramsay plays a crucial role in the creation of the menu and the selection of fresh, local ingredients. The wine list complements the freshness of each dish. Blending boldness with delicacy and innovation with tradition, Gordon Ramsay and his team uses only the freshest of Sardinian ingredients to create only the finest gastronomic delights.
"I maintain standards and I strive for perfection. I put myself in the position of the customer, not the chef. That means excitement and creativity." Gordon Ramsay.
Renowned throughout Europe and America, Gordon Ramsay is one of the most creative and original chefs to have emerged in recent years. As chef of the Aubergine restaurant in London he gained two Michelin stars and his first wholly owned restaurant, Gordon Ramsay, in Chelsea, was awarded three Michelin stars within three years of its launch. Since then, Gordon and his team have launched some of London's most high profile restaurants including Gordon Ramsay at Claridge's, Pétrus and The Savoy Grill.
Gordon has also become a television star with shows such as Ramsay's Kitchen Nightmares, The F Word and Hell's Kitchen USA and he's written a number of hugely successful books.
Open for dinner from mid June to the end of August. Subject to a supplement for all hotel guests. Reservations required.
Forte Village and Gordon Ramsay reserve the right to open, close and modify restaurants during the season without prior notice.
---
---